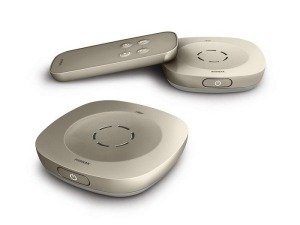 Today's high-powered hearing aids and cochlear implants contain Bluetooth streaming options that when paired with a Roger eliminate the need for an FM system.  The Bluetooth provides a direct connection for Bluetooth enabled devices, most notably smartphones and tablets, and are made for Smartphone functionality.  On the surface, the direct connection is easy to use and puts children with hearing loss on equal footing as their hearing peers with access to high-fidelity representation of the sounds of their favorite games, entertainment, and media.  
The Roger sits on the student's desk (it is a small disk device) that captures the speakers voice and streams it directly into the child's hearing device.  There are multiple programming options that allow for the child to hear only the speakers voice or a blend of the speaker with group conversations.  The device can pick up speech from 360 degrees assisting your child in group settings.  This allows the student to participate in group conversations while not missing any crucial information from the instructor.  
Paired with apps, there is a whole new opportunity for parents, teachers and children to have a deeper engagement with cool features, troubleshooting, self-checking of power levels and even remote programming with clinicians.  
Bluetooth also allows for seamless use of video chats such as FaceTime and phone calls.  Entertainment venues such as movie theaters, concerts and live theaters are all moving in the direction of Bluetooth technology which will give access to hearing device users and enhance their experience in a positive manner.
With a Roger system there is minimal training that needs to take place prior however there should be time spent with your child and their teacher to make sure they are comfortable with turning on the device and any settings they may need to use.
An FM system is like a radio and consists of two parts. One person uses a microphone to send a signal through the air as radio waves. This microphone is also referred to as the transmitter. These radio waves are picked up by small devices called receivers. Modern receivers usually plug directly into the listener's hearing aids or cochlear implant without the use of any cables. An FM system allows the child to hear the speaker (with the microphone) as if that person is standing right next to him/her even if the speaker is standing at the other end of a room and there is a lot of other noise in the room.
One of the most important features of FM systems for a child is the ability to use FM at the same time as a hearing aid or cochlear implant. In a classroom, for example, it is still crucial that the child hears their classmates at simultaneously as they are hearing and understanding the teacher.
An FM system routes the teacher's voice directly into the hearing aid or cochlear implant at the same time that the rest of the room is heard normally. This keeps the child in touch with all activity in the room but still gives that extra boost to the teacher who may not be standing nearby while providing important instruction.
When purchasing an FM system, there are several factors to consider. It should first be decided where the child has the hardest time listening and understanding. The user's ability to accept and manage such a device may also be a consideration. After identifying where the device will primarily be used, it is also important to consider the training needs of the participants, including school staff, other students, family members and even the user since many people in contact with the child may not be familiar with FM systems. These factors may affect the style and features chosen. All of these issues should be discussed with your audiologist when selecting the best system for your child.
FM should be a consideration for all children with hearing needs from day one. Whether riding in a car, playing on a field, or studying in a classroom, this technology provides the freedom to participate in even the most difficult listening situations. It provides the most reliable access to speech and language regardless of the surroundings. FM is the link for active communication.
These products represent some of the many advances in technology that are continually developing to help our children lead safer, more enjoyable and more independent lives. Again, your audiologist and other members of your team are good resources in determining which of these are most beneficial for your child.